Shipping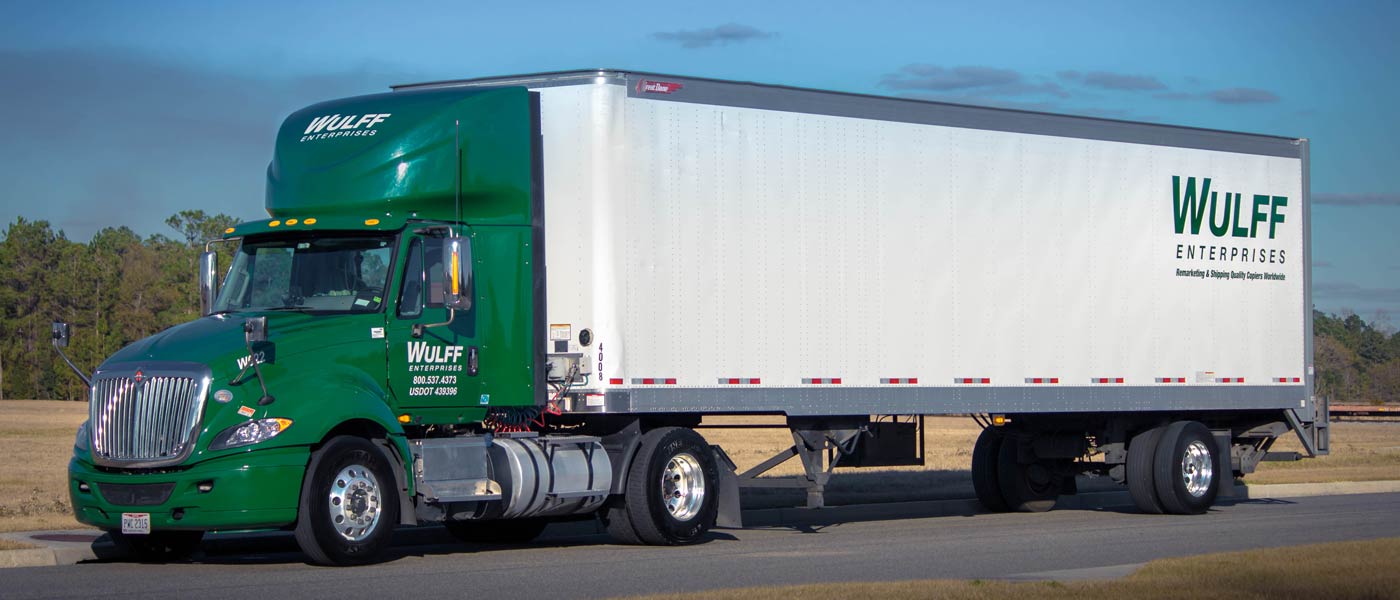 Wulff Trucking Services
The Wulff truck fleet maintains regular routes through the Midwest, Northeast, and Southeast regions. See our Service Map page for specific areas and frequencies.
Our professional drivers are experienced in transporting office equipment safely. They operate our 40' semi trailers and 28' box trucks equipped with air ride, lift gate (no loading dock required), GPS and cell phone. We blanket-wrap each piece, and strap it in to insure a safe, damage-free transport. Accessories including paper decks and finishers are detached from the machines to prevent damage.
Our freight rates are extremely competitive and in many cases are well below other carriers. Most deliveries or pickups can be completed within 10 business days. Please call us for more information.
Van Lines
If you're located outside our core service area we can coordinate with several reliable logistics providers to deliver your equipment. They are trained to transport electronics and will carefully blanket-wrap your equipment and deliver with lift gate. Usually they will provide 24 hours notice. Service is typically between 5-10 business days depending on location.
Customer Pick Up
Customers are welcome to arrange their own order pick-ups. Please call ahead and schedule a time with your salesperson. Customer pick-up hours are available Monday through Friday, 8:00 AM to 4:30 PM. Of course, we will be happy to help you load the equipment into your vehicle.
Special Shipping Requirements
We can accommodate many special shipping requirements; however, additional charges will apply for requirements such as limited truck access, elevators, steps etc.
Arranging your own freight
If you are arranging your own freight via common carrier, we will need to pack, box and palletize your copier for shipment. A prep charge will apply for this service.
Freight Claims
No matter how hard we work to minimize the risk of freight damage, there will always be things we can't control during transportation. For all third party carriers, it is very important that you inspect the equipment thoroughly upon arrival and document any visible damage on the bill of lading. This will enable us to file a freight claim. It can be very difficult to prove freight damage if it is not noted on the bill of lading at the time of delivery. Please contact us immediately if your shipment has been damaged.