Lease Returns
Professional and Efficient Pick Up Service
Wulff Enterprises, Inc. specializes in the safe transport of electronic goods. We offer pick up service via our own fleet of trucks within a broad geographic area covering most of the Midwest, Northeast, and Southeast U.S. Our pick up service includes complete handling of the equipment, freight from your location to our return center, as well as full insurance. Absolutely no packaging or disassembly is required on your part. Additional freight charges may be required for any special needs that you may have.
For more information on our freight services, visit our Shipping page. Our freight rates are extremely competitive and in many cases are well below other carriers. If we can be of any assistance in returning your off lease equipment, please call our Lease Return Department at 330-478-4778, option 3.
Paperwork Requirements
If you choose to arrange the shipping yourself, it is very important that you follow the return instructions given by your lease company. Please include a copy of the original return letter (sent by the lease company) on the outside of each machine and/or box and verify that the serial number(s) listed on the paperwork match the machine(s). This is required so that we may properly report the return of your leased machine to the leasing company and failure to comply could result in the refusal of your shipment.
Receiving Hours
Receiving hours are 8:00 AM to 4:30 PM, Monday through Friday.
A DOCK TIME IS REQUIRED. To schedule a dock time at least 24 hours in advance, please call our receiving departments at (330) 478-4778, option 4, then 1 for Ohio or 2 for Georgia
Lease Return Staff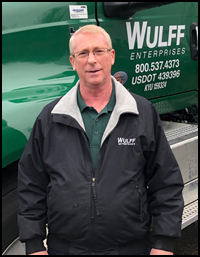 Ray, Freight Coordinator, ext. 9619
Ray has been with us for over 12 years. He began his career with Wulff as a truck route driver, before joining the Freight Sales Team. Starting as a driver helps him understand the importance of what our customers need; to get office equipment picked up to make room for the new products. And, he does everything he can to make that happen. Prior to joining our team Ray was a driver and a warehouse manager for 22 years.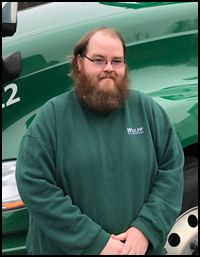 Chris, Freight Coordinator, ext. 9618
Chris joined our Freight Sales team 3 years ago. With 12 years of customer service experience, Chris knows the importance of providing quick, accurate, and excellent assistance.