Lease Companies
Wulff Enterprises provides asset remarketing services to national and regional lease companies, specializing in the office equipment industry. Areas of expertise include copiers, MFPs, duplicators, printers, wide format printers and plotters, and other office technology. We pride ourselves on providing a high level of accuracy, efficiency, and residual value for our remarketing partners.
Asset Remarketing
Our priority is to provide orderly liquidation of assets, with emphasis on maximizing residual value while maintaining a fast turn rate. Our highly trained domestic sales staff will work tirelessly to market your assets to our vast dealer network. In addition, we utilize the worldwide market via our international contacts. Immediate liquidation services are also available.
Warehousing & Storage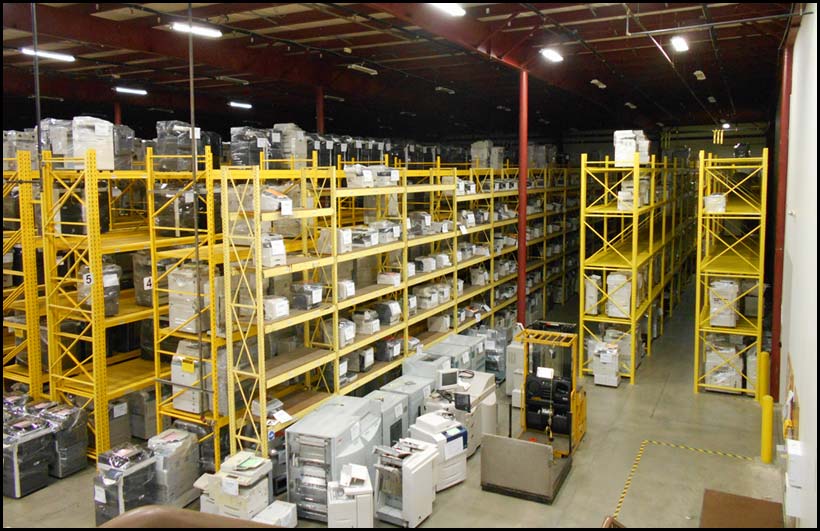 Built in 2004, our state of the art 55,000 sq. ft. facility in North Canton, OH can comfortably house over 6000 copiers. Designed from the ground-up to efficiently store copiers, our warehouse offers secure, clean, climate controlled storage for delicate electronic equipment. Opened in 2007, our Valdosta, GA facility offers a similar capacity. Every piece of equipment is assigned its own unique control number and bin location. All accessories (such as finishers and fiery controllers) are stored with each machine. Our inventory structure and specialized order picking system allow us to sustain a high degree of accuracy as well as easy access to every item in stock.
All inventory items are fully insured by Wulff Enterprises.
Equipment Audits
Our equipment auditing process is among the most detailed and thorough in the industry. Equipment can normally be audited within 24-48 hours of receipt. Our skilled technicians verify the model, serial number, meter count, and all accessories. All damages and missing items are notated.  Domestically desirable units are fully tested for operational integrity.  Every machine is quality control checked throughout the entire auditing process for utmost accuracy. Receiving, condition, or chargeback reports may be electronically transmitted on a daily basis. Full inventory reports are available at any time. We can tailor the auditing or reporting process to meet any specialized needs.
Repossession Services
We offer professional & timely repossession services nationally. We maintain an onsite coordinator to handle all repossession orders with our leasing partners. Our fleet of trucks and our extensively trained drivers are equipped to handle most any situation to recover your asset in a safe and efficient manner. Trucks are equipped with lift gate and stair climber. All equipment is carefully blanketwrapped, corner boarded and strapped to insure damage free shipment. All repossession shipments are fully insured by Wulff Enterprises.
Repair & Refurbishment
Machines are thoroughly cleaned and stretch-wrapped to present the best possible appearance for sale. Many minor problems are corrected by our technical staff during the auditing process. Additional repair and refurbishment services may be available upon request.
Logistic Services
We offer transportation services to lease companies, dealers, and end users at a considerable savings over commercial carriers within a broad geographic area covering most of the Midwest, Northeast, and Southeast U. S..  We specialize in shipping lease returns - we ship thousands of assets every year with an extreemly low damage rate, minimizing your hassle factor. All shipments are insured against loss or physical damage. Our onsite freight coordinators can professionally arrange pickups, removals and repossessions.